Every year Reporters Without Borders (RSF) compiles and publishes a "World Press Freedom Index" which attempts to measure and map the degree of freedom available to journalists and publishers in national media systems around the world. It is published today, 3 May, which is 'World Press Freedom Day'!
You can read a summary, view the map and look at reports on individual countries from the RSF home page:
Japan
This is what Japan's changing position in the press freedom index looks like over time.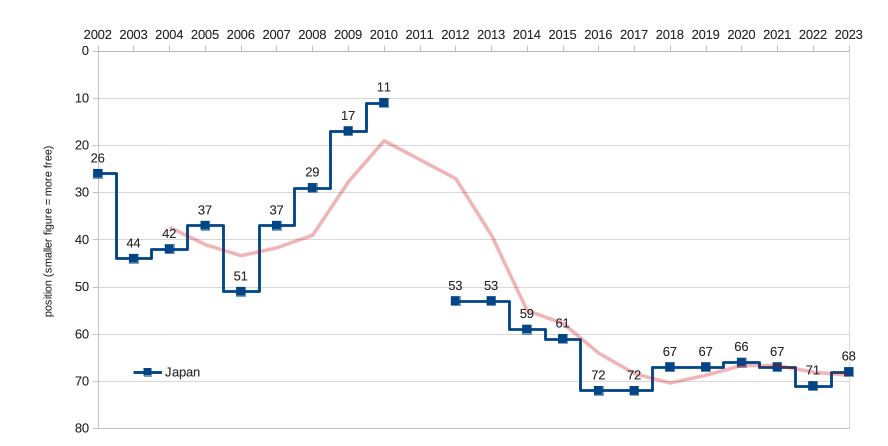 Japan's RSF Press Freedom ranking 2002-2023
In case you're wondering what happened to the progress made up until 2010, two words, 'Fukushima' and 'Abe'. The Fukushima nuclear disaster occurred on 11 March 2011, the DPJ was wiped out and an LDP government led by Shinzō Abe was returned in the general election on 16 December 2012. The former led to establishment efforts to restrict reporting on an embarrassing national failure while the subsequent LDP administrations were happy to make further efforts to weaken an already cowed press.
This year's analysis summary again points to the same factors that have been in play over the last decade or so; "the weight of traditions, economic interests, political pressure, and gender inequalities", alongside the preservation and indeed revitalisation of the 'kisha club' system, the ongoing cosiness between major media outlets and the state, and "vaguely worded regulations" which undermine the ability, and the willingness, of the press to perform their watchdog function.
Japan's stable position in the ranking is somewhat flattering; its actual score - that is, the calculated index of 'press freedom' as opposed to its ranking within the countries surveyed - has fallen from 71.36 in 2018 to 63.95 in 2023; this would have placed Japan 115th (out of 180 countries) in 2018! It seems that levels of press freedom are falling across the board, with Japan's falling less quickly than many other countries.
This year's survey also points to the effects of the 'fake content industry', and how, with the rapid development and spread of AI -generated material, "[t]he difference is being blurred between true and false, real and artificial, facts and artifices, jeopardising the right to information"