Language and Culture: 1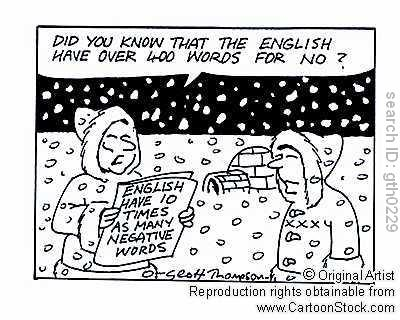 Languages have a lot of words for the things they need to do… maybe…
The Sapir-Whorf hypothesis, languages and perception, national languages.
Tasks
Leave a comment on the manaba forum telling us about useful words and phrases you might use at home that are not part of the 'standardised national language'; feel free be funny but try not to be offensive 😉

Think about your essay topic, the deadline for submission on manaba is coming soon (check here for the date), if you want to discuss your ideas before you submit something (highly recommended!), please get in touch by email.
Slides
Reading
Martí, F. (2005) Words and worlds: World languages review. Multilingual Matters.
Other material
Tracing the origins of some Asian languages (Nov 2021)…
Nov 2019 news article about the French Academy's effort to control the use of 'Franglais' (French-English mixed words). Mentions the 'Toubon Law' which affects how language is used in the mass media etc in France.
2019 was the 'Year of Indigenous Languages', many of which are under threat…
A trip to Italy, where people speak….Greek?